I am continuing my "Artists I Know" series with the artist and founder of Createspace Wales, Rose Sanderson. It was my pleasure to interview her during my residency at the studio in Wales, U.K. You can learn more about my residency experience in previous posts.

In Rose Sanderson's delicate drawings, animals take on new patterns and rocks come to life. A multi-media artist originally trained in illustration at the University of the West of England in Bristol, Rose now explores a variety of materials and subject matter from her home in a small village in West Wales, all while raising a lively little girl and running a live-work creative space and artist residency program, Createspace Wales.
Starting out in set design and furniture restoration, Rose eventually began creating paintings and drawings that explore varying aspects of the natural world in precise detail. "Everything I do is based on nature and [my] appreciation and love of nature," she explains. Past series explored concepts of freedom and strength, portraying animals juxtaposed with unexpected places and environments, like birds placed against ageing wallpaper patterns, or wild contrasts of scale between animals and landscapes.
In her current series of paintings and drawings, she takes a cue from the natural world literally outside her door in Wales. Inspired by local geology, she depicts lichen, moss, fungi, and other coastal wild life. Zooming in on their unique characteristics, she places them front and center in her designs. Recent three-dimensional works include ceramic biomimicry sculptures and small jewelry pieces inspired by the coastal objects she gathers from the local beaches. She enjoys the experimental aspects of this newer direction in her work, and is looking forward to developing her interests in natural history and marine biology.
Rose's life experiences have played a major part in shaping her art and her career. After living and working in Bristol for many years, showing actively in the gallery scene, Rose took time to travel, which served as an inspiration for both her art as well as her artist residency program, Createspace Wales.
Over a period of two years, Rose participated in two artist residency programs in the United States and Canada, lived in the San Francisco Bay Area, and sailed along the U.S. and Mexico's Pacific Coast. Time spent in the U.S. also resulted in Rose exploring new media and materials, as she studied Jewelry and Metal Arts and three-dimensional design techniques at the Academy of Art in San Francisco.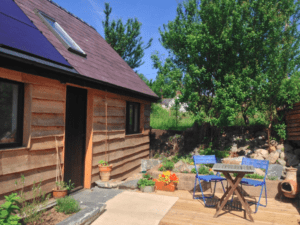 Upon returning to the United Kingdom, she pondered creating a residency program of her own. She wanted to provide artists around the world with the opportunity to travel to the United Kingdom and experience living and working in a new environment much as she had. After moving to West Wales in 2017, Rose and her husband renovated a barn on their property that incorporated a large work space and attached living area. Artists from across the world have taken part in this residency program, allowing them to experience the wild, beautiful coastal Welsh landscape and focus on their work.
As a mother of a vibrant little girl, Rose also focuses on time with her family and time in nature. Balancing it all can prove difficult, but she has a refreshing perspective on life as an artist, mother and entrepreneur. "You have your whole life to evolve and change," she comments. "It is OK to take breaks and go back to [art]. When you aren't creating, you can lose who you are, but you'll end up creating in different ways." This is a good reminder for those of us who feel pressured to succeed and create work constantly without giving ourselves time to just live or take a break.
Rose's approach to art is to explore what interests her at the time, resulting in experimentation and unexpected results. "I really like playing with different materials; I think I will find a way to connect them [and] it will come together," she says.
To follow Rose's artistic process and learn more about Createspace Wales, follow her on Instagram at @createspacewales or visit createspacewales.com. Past work can be found on www.rosesanderson.com.