Formed in 2020, Seed Sisters is an international artist collective consisting of five contemporary creatives based in Europe, North America and Asia. Keep reading for details about the members.
Philippa Sibert is a painter, printmaker and textile artist. Her work explores her physical and emotional engagement with the natural world. Growing up in Zimbabwe until the age of 11, after which she returned to the U.K., she eventually made her way to rural Wales, settling in Pembrokeshire. She says of her work:
I like to think of myself as a creative explorer.  My studio becomes my laboratory where I test out new ideas.   These evolve and transmute into images and resonate with deeply held memories and experiences about 'place', whether imagined or real. My main driving force lies within 'potential' and 'possibility'.  I am always seeking out new ways to interpret my vast reservoir of stored imagery, via mark making, the use of colour and gesture, the serendipitous.
Her recent work explores slow stitching, botanical eco-prints, paper sculpture and drawing. Learn more about her at http://www.philippa-sibert-art.com/.
Ann Stephens is an artist and art educator based in southwest France, though she is originally from the U.K. as well. After many years of working as an art educator and public art facilitator, she moved to France to fully immerse herself in her art. This allowed her more freedom and the opportunity to explore new media in depth. Of her process, she says:
Moving to France has enabled me to explore my own creativity in greater depth and to more fully develop my love of textiles. Living as I do in rural South West France, I am surrounded and inspired by the natural and architectural beauty of the region.  


Over the past five years my work has evolved from the painted surface into a more general interest in fibers, threads, fabrics and natural dyes. I am always trying to push my own creative boundaries, and to experiment with new ideas, methods, and combinations. I have a particular love for the re-purposing of old textiles and materials in my work.
She leads workshops on textile art processes and exhibits internationally. Learn more about her at https://www.annstephens.co.uk/.
Ingrid Bell is a multi-media artist and psychotherapist based in Scotland.  Her work is interconnected with her therapy practice, and she explores ambiguity, loss and cultural identity in prints, installations, fiber and textile. Describing the connection between her therapy practice and her work, she says:
I had been trying to keep my art practice and my psychotherapeutic practice independent of each other, mainly to separate my art work from being considered as an only inward looking process without consideration of the other, as if the viewer were of no consequence. Although my art image making does indeed draw on the personal, it is also to be shared with an audience /viewer as a contribution and connection of shared human experience.
Learn more about Ingrid's multi-facted work at https://www.ingridbell.co.uk/.
Makiko Berry is an artist and art educator based in Kyoto, Japan, working in painting, printmaking and drawing techniques. She graduated from  Seian University of Art and Design in 1998. In 1999, she started to work for the Asian Art Conservation Department at the Metropolitan Museum of Art (NY, USA)In 2012 she received a grand prix of the 4th Kyoto New Japanese Style Painting Exhibition. She has started art classes called "Japanese style painting class" for adults and "Creative time" for people with handicap and herself to share the space and ideas. In 2016, she received an award of excellence at Geibunkyo-ten exhibition. Her work was most recently exhibited at the Murata Gallery in Kyoto. Of the work on display, she explained:
Now that the world has changed drastically, I think the role of art is very important. Now I just want to draw a relieving work.
Follow her on Instagram at @berrymakiko. She has an upcoming show at Amano Gallery in Osaka, Japan, in March 2022. A small selection of works by the Seed Sisters will be included.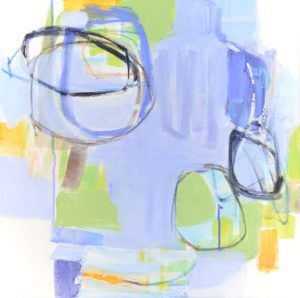 Julia Rymer is an artist, art educator and entrepreneur based in Colorado, in the United States. Her abstract paintings and textile work reference her experiences with nature, embracing the mysterious, the unknowable and the intuitive. Her 20-year art career spans numerous solo and group exhibitions and inclusion in many corporate, museum and private collections throughout the United States. She says of her work:
My interactions with nature—from examining the minutia of biological cells and seeds to experiencing the vastness of mountains and oceans—inspire the shapes, color interactions and designs that appear in my work. Each piece I create evolves like geological strata, layers building up over time, cultivating structure in the overall composition. I think of my work as research; much as Josef Albers spoke of his work, saying "All my painting is actually study. The longer I do it, the more and more it is endless."
Her work was most recently featured in a solo exhibition at the O'Sullivan Art Gallery at Regis University in Denver, CO.