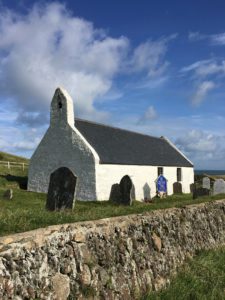 I hiked back up to Mwnt today, this time with the intention to paint there. I wanted to attempt to capture the colors; also, it is a strange and beautiful place. It holds deep history, and you can feel it. The church here has stood for centuries, and the rocks show signs of ancient seabeds and tectonic uplifts.
The main hill here is called the "Foel y Mwnt" and it at one point had a giant cross on the top of it so that the monks on pilgrimage would know to come there. I climbed up to the top and stared at the wild sea below, feeling the wind blast against me. It feels as desolate up here as any summit of a 14'er in Colorado, but the descent is way easier (the hill is all of 250 feet above sea level).
Down at the base of the hill is the Church of the Holy Cross, a small building of white-washed stone. I am not usually much for churches, but it was a thoughtful day (it is Yom Kippur today, the holiest day on the Jewish calendar) so I sat in the quiet peace of that church and drew a view from the window.
I walked down to the café by the beach, sat down at a table, and started to paint. I got through about one painting before my things began blowing away, and I decided to pack it in and walk back to the studio.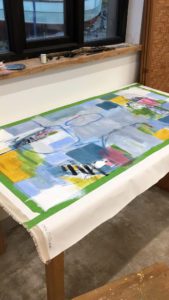 Along the way I picked some watercress that was growing by a nearby stream, which I plan to rinse and put in some soup. I picked blackberries as I walked too.
If you somehow find yourself in Southwest Wales in the future, go during blackberry season.
Back at the studio, I unrolled the one large(ish) piece of primed canvas I brought, and started mixing and blocking in colors. This piece is entirely abstract, but it will be layered with my many impressions of this place, and the observations of my time here.