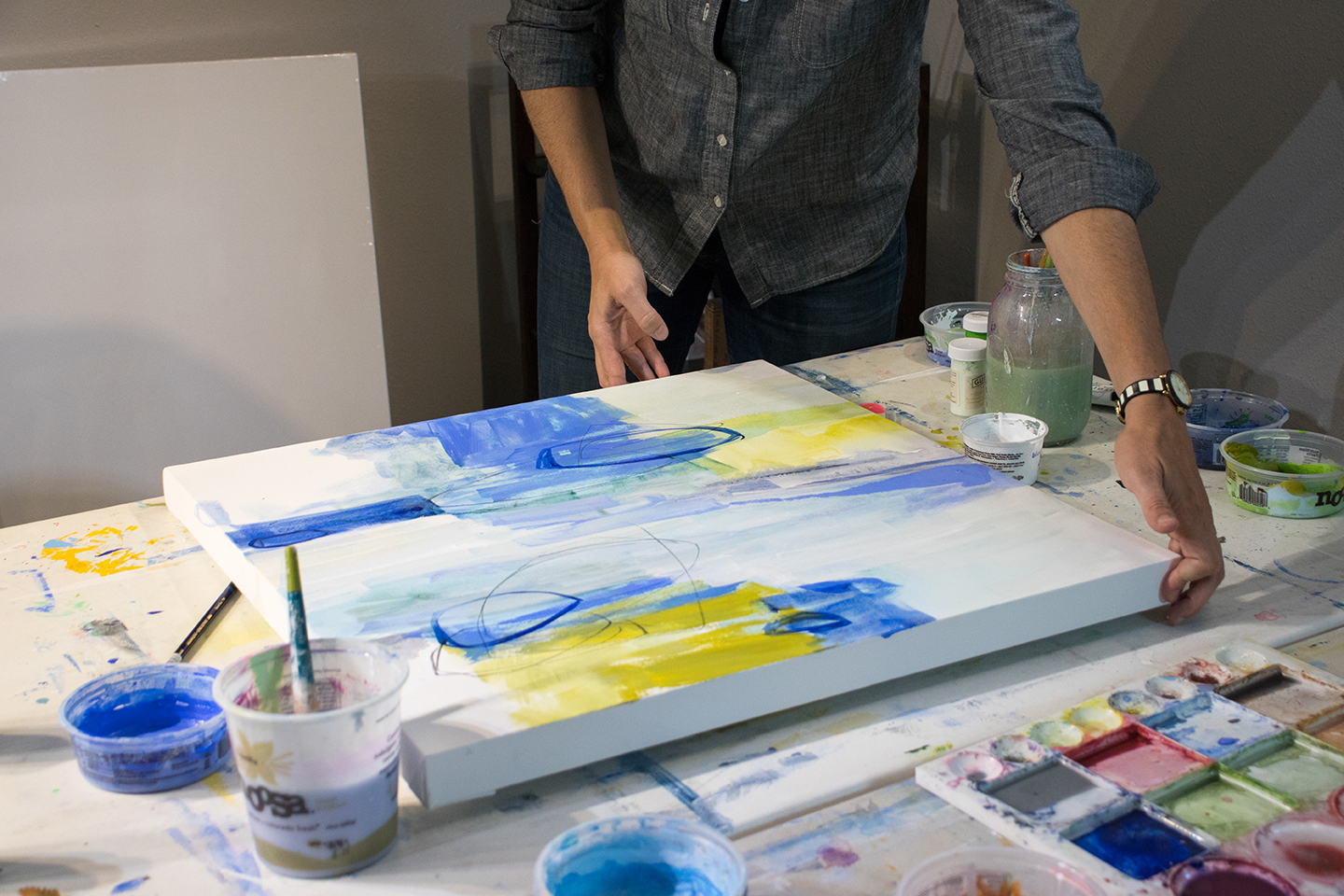 I'm battling my way through my work, preparing for an upcoming show, but also, as always, simply doing the work: creating, destroying, pondering, playing in the studio. Marking up canvases and instantly regretting the marks, or sometimes– not often– loving what I have made, and getting attached, wanting to keep it. Then destroying it and remaking it, again and again, until I feel like it is at a place balance and completion.
The artistic process feels like a battle to me. It is one I am willing to fight, but nonetheless it remains a battle.
Painting also often feels like chasing a wild animal, only the wild animal is my Self. I'm also doing a lot of inner work right now, rethinking my approach to language and my use of my voice as a person. Art has always been a means for me to have a voice, and to give all those emotions and experiences a place to exist and breathe. To feel real, and valid– in a sense, to give them solidity and form.
Some days in the studio I win the battle, and I feel a sense of accomplishment and completion. This feeling always fades, for the primal urge to create– to "art" as a verb, as my father likes to say– resurfaces, and I am back in that space, again, alone against the canvas. James Baldwin says that the artist must actively cultivate aloneness, so that we may "conquer the great wilderness of [the self]."
"The precise role of the artist, then, is to illuminate the darkness, blaze roads through that vast forest, so that we will not, in all our doing, lose sight of its purpose, which is, after all, to make the world a more human dwelling place."  (James Baldwin, The Creative Process.)
To make the world a more human dwelling place. I can think of no better description of the purpose of art in this dark world. It puts into context the need for art, of all its forms and manifestations, whether dance or painting or song. We are making the world more human. And that is, indeed, a battle. This is not a world that wants more humanity. It is a world that wants and cultivates and craves more inhumanity, in all its forms, from robots making everything from hamburgers to cars, to the cruelty of separating a parent and a child as they cross a border, to the destruction of our very planet.
I carry on this work, this mission, this battle. Whether in oil or acrylic, what is in these paintings is my soul, my humanity– and I am not being overly dramatic. We are here to say something, artists. Say it.